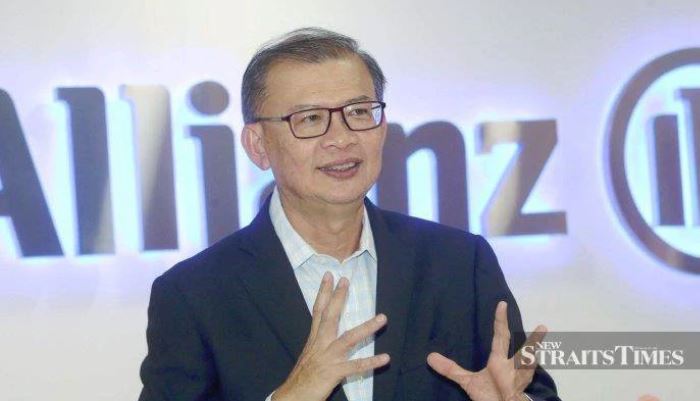 Allianz Malaysia Bhd is diversifying its general insurance portfolio to non-motor protection coverage segments in its bid to remain sustainable and relevant in the long-term.
Chief executive officer Zakri Khir said the move allows its general insurance subsidiary, Allianz General Insurance Company (Malaysia) Bhd (Allianz General), to extract higher margins from various insurance products including real-estate, individual and commercial protections.
"We find that the current motor insurance environment is not very sustainable for us. It has a lower margin and stiff competition, thus exposing us with various volatilities," he told New Straits Times in a recent interview.
Zakri said Allianz General would embark on a transformation programme to achieve a 35 per cent Net Earned Premium (NEP) contribution from the non-motor and 65 per cent for the motor segment by 2020.
Currently, Allianz General's NEP contribution is mainly derived from motor segment accounting for about 72 per cent with over RM1.2 billion turnover.
The group's remaining 28 per cent NEP is attained from non-motor segment.
Zakri said the company aspires to rebalance its products portfolio with the potential of expanding non-motor segment to obtain higher margins.
"This initiative allows us to provide good dividends to our shareholders while improving the overall group's earnings.
"We also want to achieve on average of a combined ratio of 90 per cent with the remaining 10 per cent of underwriting profit margins annually," he added.
Zakri said Allianz General's core insurance products that could drive its products diversification include Smart Home Cover (home insurance), Allianz Shield (personal accident protection), Allianz Travel Care and Allianz Care.
"For instance, not many homebuyers are aware of the importance of having home insurance. There are eight million households in Malaysia but only 25 per cent or two million are insured.
"Home insurance provides a safety net, minimising damage control financially when it comes to house related problems. The insured will be protected for unforeseen events as the insurance helps to replace household belongings," he said.
He also said the local general insurance market remained flattish in the last two years, recording 1.5 per cent growth in Gross Written Premium in 2018 and -0.1 percent in 2017.
"Generally, Malaysians do not buy general insurance and the penetration rate is still low at 1.5 per cent of the gross domestic product compared to developed countries such as Germany's 3.4 per cent," he said.
Zakri said the low insurance penetration was attributed to lower disposal income, lack of priority and lack of financial literacy as well as the public not being aware of the importance of having protection policies.
"Malaysians have no sense of vulnerability but a great sense of entitlement. This is because insurance is not a priority for Malaysians but rather something they purchase only if the law requires it.
"Insurance is never purchased when all is going well and the notion that will happen to you is a misconception. This mindset must change.
"Most people view insurance as a form of intangible benefits that is not certain, making the desire to buy policies less," he said.
Zakri said Allianz would offer 'simple' (less complicated) insurance policies for Malaysians to entice the local market.
"We need to sell policies that are easier to understand and provide protection for insurers.
"But the challenge is, how do we motivate and attract more consumers to buy insurance and make it as a necessity," he said.
According to Bank Negara Malaysia, life insurance penetration is worse in the Bottom 40 where just 30 per cent households own a life insurance or family takaful policy.