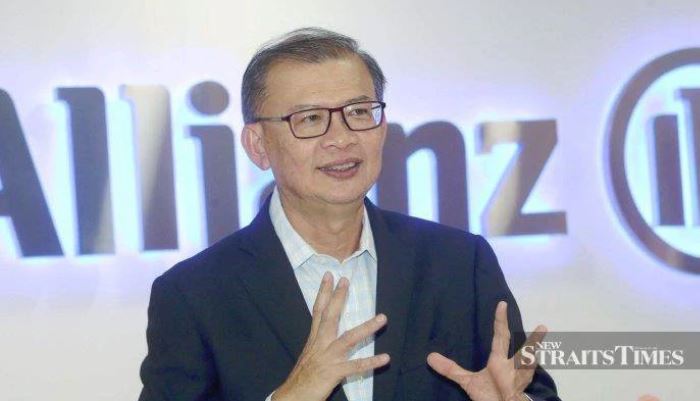 Malaysia should be one of the few markets in the region to avoid contraction in its insurance industry this year, albeit by a hair's breadth, said Allianz.
The German insurance giant said premiums were expected to grow by only 0.9 per cent with the life insurance segment growing 1.8 per cent and property-casualty (P&C) segment, -1.3 per cent.
The slump, however, would be followed by a swift recovery in 2021, with the market growing by 7.0 per cent, Allianz said in its latest Global Insurance Report.
Over the decade up to 2030, Malaysia is expected to clock growth of 5.8 per cent annually.
"Malaysia's insurance market is one of the most developed in the region. Premiums per capita stood at 363 euros in 2019 (well above China or Thailand), with penetration at 3.5 per cent," the group said.
The local insurance market grew 4.9 per cent in 2019, more or less in line with previous years.
Life insurance premiums, accounting for 70 per cent of the premium pool (without health), increased by a healthy 7.4 per cent while P&C premiums declined slightly 0.5 per cent.
Over the whole decade since the great financial crisis, the life segment had outgrown P&C by a wide margin, Allianz said.
Globally, the insurance industry entered 2020 in good shape before being hit by the Covid-19 pandemic.
Allianz said in 2019, premiums had increased 4.4 per cent, the strongest growth in four years.
The increase was driven by the life segment where growth sharply increased over 2018 to 4.4 per cent as China overcame its temporary, regulatory-induced setback and mature markets came finally to grips with low interest rates.
P&C insurance clocked almost the same rate of growth (4.3 per cent), down from 5.4 per cent in 2018.
Thus, for the first time since 2015, life insurance outgrew the P&C segment, albeit by a very thin margin.
Global premium income totalled 3.91 billion euros in 2019 (life: 2.4 billion euros, P&C: 1.51 billion euros).
The sudden stop of economic activity around the globe caused by Covid-19 would batter insurance demand, Allianz said.
Global premium income is expected to shrink 3.8 per cent this year, with life insurance probably hit more than P&C business with growth rates of -4.4 per cent and -2.9 per cent respectively.
"Thus, the impact of the pandemic is going to be three times stronger than that of the global financial crisis, when global premium income decreased by 1.0 per cent.
"Compared to the pre-Covid-19 growth trend, the pandemic will shave around 360 billion euros from the global premium pool," Allianz said.